Proton Therapy
MedStar Georgetown's Proton Therapy Center
About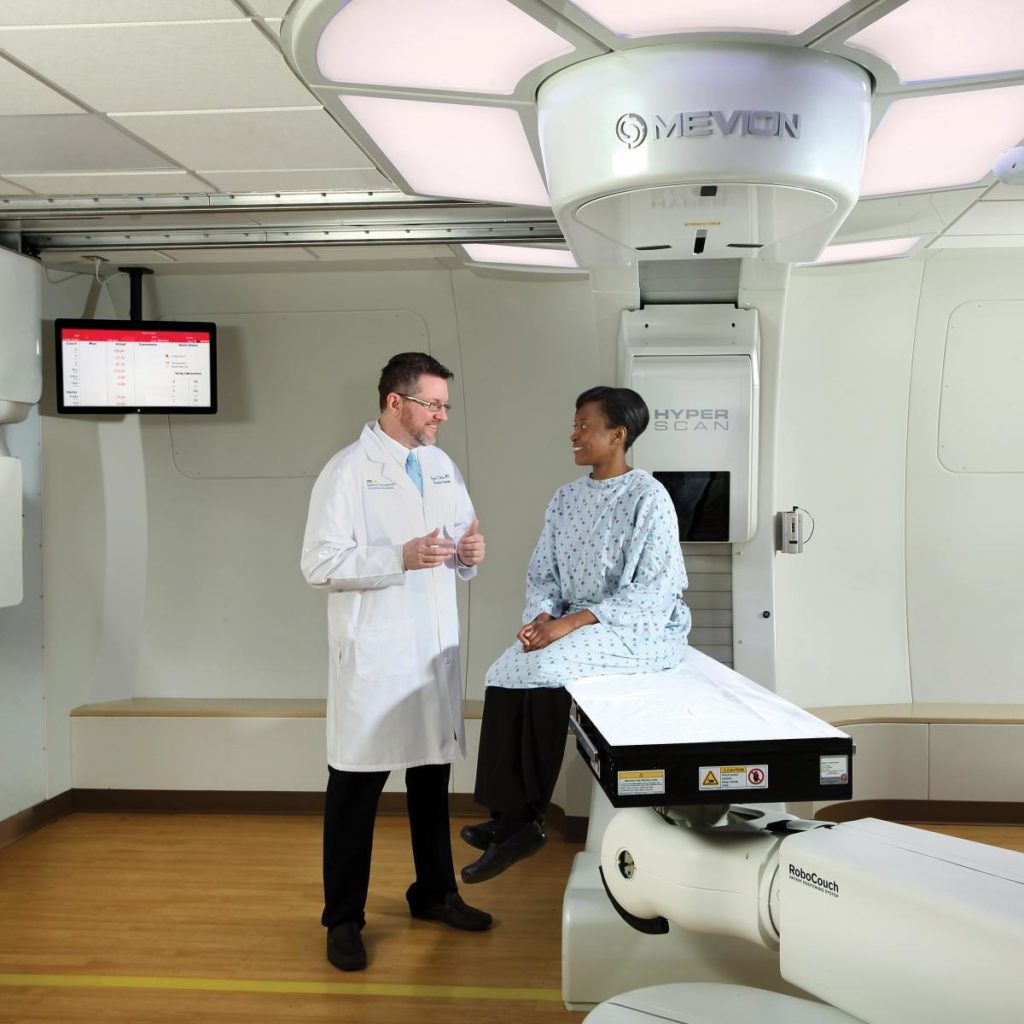 We are very excited to have recently opened Washington DC's first proton therapy center at MedStar Georgetown University Hospital (MGUH), greatly enhancing the care of, and convenience for patients throughout the region. Due to the added precision over traditional radiation therapy techniques, proton therapy has the potential to decrease side effects and improve outcomes for cancer patients.
To better understand this technology, it's worth a quick overview of its development. In the early 1900s, William Henry Bragg described a phenomenon, in which particles such as protons rapidly deposit their energy near the end of their path; this was later termed the "Bragg Peak." It was hypothesized that this property would be useful for improving the precision of radiation therapy. By placing the Bragg Peak within a tumor and eliminating dose beyond the tumor, the amount of normal tissue unnecessarily exposed to radiation could be reduced. Therefore the advantage of proton therapy over x-ray therapy, the most widely used type of radiation therapy, is a physical advantage. Biologically, x-rays and protons have similar effects on cancer cells. Less exposure of normal tissues to radiation can reduce short and long term side effects and allow for higher doses to the tumor, thus increasing the effectiveness.
Recent technical advancements have allowed for significant improvements in the delivery of proton therapy. At MGUH, our proton center uses a technology known as pencil beam scanning (PBS) to enhance the proton beam targeting. PBS uses magnets within the treatment head to place spots of protons directly in the tumor. The beam is then further shaped by a device called an aperture. Additionally, the proton center at MGUH has a novel compact design, which allows for a significantly smaller facility footprint.
Research is ongoing to determine which patients benefit from proton therapy over other radiation therapy techniques. Based on the available evidence, widely accepted indications for proton therapy include malignant and benign brain tumors, spinal tumors, head and neck cancers, liver cancers, and childhood cancers, as well as treatment for various other cancer after prior radiation therapy. There is emerging evidence that validates treating patients with other cancer types including esophageal, pancreatic, and cancers of the pelvis. As with any form of radiation therapy, proton therapy should fit into a patient's overall management plan.
Clinical and translational research efforts are critical to further developing proton therapy for cancer patients. I am grateful for the research support provided by the Ruesch Center in helping to advance proton therapy for patients with gastrointestinal cancers.
More Information
MedStar Georgetown University Hospital is the only facility in the Washington, D.C. metropolitan area to offer proton therapy, a highly advanced and effective form of radiation therapy.
For more information, to arrange a consult or referral, or to get a tour of our Proton Therapy Center, please email Cheryl Savage, Radiation Medicine administrator or call 855-213-9410.