Establishment of The Ruesch Center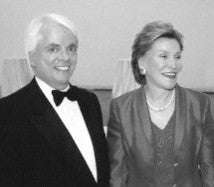 The Otto J. Ruesch Center for the Cure of Gastrointestinal (GI) Cancers will re-focus national efforts on curing this deadly set of diseases. Combining expertise in molecular medicine, translational research, and a patient-centered philosophy, the Ruesch Center will realize the dream of individualized curative therapies through research, care, and advocacy.
The Center was founded in September, 2009 through a gift from Jeanne W. Ruesch in memory of her husband, Otto. He was a prominent Washington-area businessman and philanthropist who died of pancreatic cancer in October 2004 at the age of 64, after being treated at Lombardi. A Swiss-born immigrant, Otto Ruesch founded in 1980 Ruesch International Monetary Services Inc., which specialized in corporate foreign payments and risk management products. As passionate as he was about business, he was even more so about his volunteer roles with various civic, arts and educational organizations and was known for his hands-on approach to causes that were important to him.
Throughout Otto's year-long battle with his disease, the Rueschs say they were struck by the lack of public understanding of gastrointestinal cancers, as well as the difficulty of accessing information and treatment. They saw a glaring need to shine a spotlight on the devastation caused by gastrointestinal disease through advocacy and increased research funding for more targeted drugs. "Our family was astounded that the prognosis for pancreatic cancer – one of the most devastating GI cancers – was so grim," Jeanne Ruesch says. "There has been so little progress in identifying new treatment methodologies in recent years. Through the course of Otto's illness, we saw so many families whose suffering touched our hearts and made us feel that we had to take some responsibility for trying to make a difference in treating this terrible disease."
Gastrointestinal cancers remain among the most fatal cancers. Advances in treatment have lagged well behind other disease priorities such as breast cancer because of a smaller pool of research funding and fewer survivors to carry the torch of advocacy, according to Ruesch Center Director John Marshall, MD, chief of the Division of Hematology-Oncology for Georgetown University Hospital and associate director for clinical research at the Georgetown Lombardi Comprehensive Cancer Center. In addition to being a global leader in the research and development of drugs to treat colon cancer, Marshall treated Otto Ruesch for pancreatic cancer.
"We are fortunate to have identified Georgetown as one of 40 NCI-designated comprehensive cancer treatment centers in the Unites States, and John Marshall as one of the leading clinical research physicians for the treatment of GI cancers," Jeanne Ruesch says. "Like Otto, Dr. Marshall believes that the status quo in cancer treatment is simply unacceptable. We have to find a cure. Our family wants to be a part of the process."