Register today for the GI Cancer Patient Summit with Hope Connections on July 15, 2023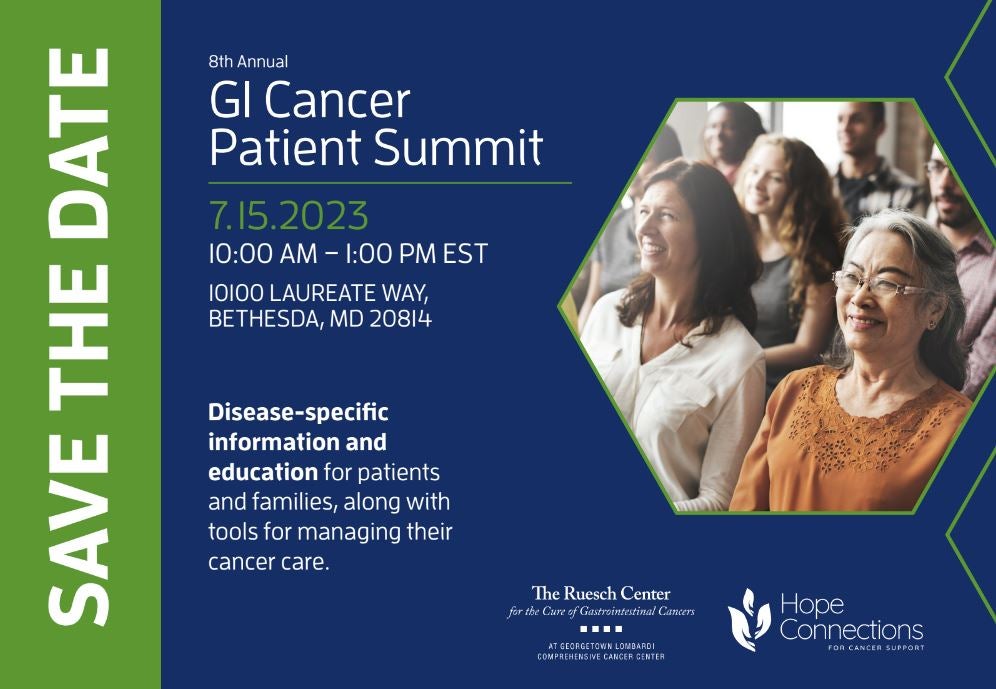 The annual GI Cancer Patient Summit features content for patients and caregivers. The summit provides information and tools to manage cancer care and the opportunity to interact in small group settings with clinicians. The Summit is a partnership between The Ruesch Center and Hope Connections for Cancer Support. Topics include cancer care and resiliency, the role of palliative care at every stage of your cancer journey, outside the exam room, questions you've wanted to ask about the quality of life, and disease-specific breakouts.
Watch Videos for the 2022 Patient Summit
Watch Videos for the 2021 Patient Summit
Watch Videos for the 2020 Patient Summit
Nutrition and GI Cancers
What to Expect When Returning to Work
Resources Mentioned by Panelists:
Hope Connections for Cancer Support– free, professionally led programs for people with cancer and their loved ones dealing with the emotional and physical impact of cancer. Hope Connections offers exercise classes (Tai Chi, Yoga, Pilates, Strength & Balance, Mind-Body Boxing) and mindfulness classes. Support Groups are also an important part of emotional well-being which affects physical well-being. See the full calendar of events.
GI Cancers Alliance– learn more about GI Advocacy groups you can connect with for disease-specific support.
Embracing CarersTM– aims to fill the need for better support and recognition of caregivers. They are focused on improving caregivers' health and wellness while increasing awareness and support for them within healthcare systems around the globe.
Lombardi Arts and Humanities– promotes cura personalis, or care of the whole person, for MedStar Georgetown University Hospital patients, family members, caregivers, medical staff, students, and community members through its programs of music, expressive writing, dance, and visual arts.
Triage Cancer– providing free education on the practical and legal issues that arise after a cancer diagnosis.