2022 Ruesch Center Classic Golf Tournament
Join us Monday, May 16, 2022 for golf, cocktails, & reception
Tournament Information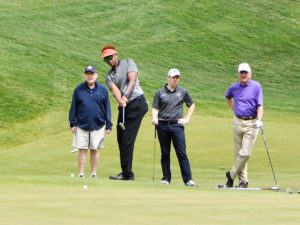 The sixth annual Ruesch Center golf tournament will bring together local business leaders and philanthropists to tee up for a cure of gastrointestinal cancers.
The tournament will be hosted at TPC Potomac at Avenel Farm. Located on 220 acres of rolling wooded countryside in Montgomery County, MD., TPC Potomac is located less than 20 miles from the nation's capital. This championship par 70 PGA course features bent grass greens, tees and fairways with subtle elevation changes and distinctive Mid-Atlantic and Scottish-style bunkering.
We have been working closely with the team at TPC and continue to have conversations to ensure that all local and TPC national COVID-19 protocols are up to date. The health and safety of our sponsors and players is of the utmost most importance to us.
Thank You
The last five tournaments helped raise over $600,000 for GI cancer research. These funds are critical to the Ruesch Center's mission to find a cure for this set of deadly diseases. Advancements are being made and your contributions do make a difference!
How You Can Help
By taking part in The Ruesch Center Classic golf tournament you can provide research and educational support for our top medical professionals. Ruesch grants provide crucial resources for clinical trials, as well as support our conferences and meetings for the scientific community. Ruesch-acquired funds also are used for GI Cancer awareness and education for patients and the public. Learn more.