2018 Symposium Exhibitor Information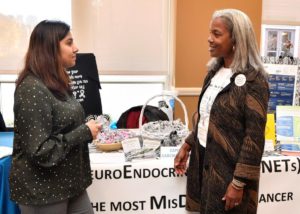 The 2018 Ruesch Annual Symposium will be held at the Washington Hilton from November 30 – December 1. Exhibitors include a wide array of companies and advocacy organizations. The exhibits, located just inside the main entrance where all breaks and meals will be served, make a significant contribution to the educational value of the meeting.
Exhibitor Information
All exhibitor personnel must be registered to attend the Symposium. Each person registered as an exhibitor must be employed by the exhibiting company or has a direct business affiliation. The exhibit badge allows access to all areas of the conference.
Register at: rueschsymposium2018.eventbrite.com and use promo code Sponsor2018.
Exhibiting organizations will receive: One (1) 6′ table with a standard linen and two chairs & complimentary conference registrations.
Exhibit area: Columbia West (The T St entrance is closest to the event space). Exhibits are located in the break areas and attendees will have access to the exhibitors during registration hours, meals and break periods.
Exhibitor Hours
Please plan to have a representative at your table during the following times:
Friday, November 30
7:30AM – 8:30AM
8:30AM – 9:00AM
10:35AM – 10:50AM
12:30PM – 1:30PM
2:30PM – 2:45PM

Exhibitor arrival and set-up
Registration & Breakfast
Break
Lunch & Networking
Break
Saturday, December 1
7:30AM – 8:00AM
8:00AM – 9:00AM
10:00AM – 10:30AM
11:00PM – 11:10PM
12:00PM – 1:00PM
Exhibitor arrival and set-up
Registration & Breakfast
Break
Break (Patients only)
Lunch & Networking
Representatives are welcome to join the program during all other times. Ruesch Center staff and volunteers actively monitor the tables.
---
Additional Information
Housing
The Ruesch Center has a small block of rooms at the Washington Hilton. If you are in need of a room please contact Ricci Sheridan with number of rooms and nights needed. Availability is not guaranteed.
Shipping
Table top exhibitor shipments must be addressed as follows:
Actual Recipient Name
Exhibitor Company Name/Booth Number
Ruesch Symposium – November 30, 2018
Washington Hilton
1919 Connecticut Avenue, NW
Washington, DC 20009
Box 1 of X
Shipments to the hotel are received, stored and delivered by their Package Room. Storage in the Package Room is limited. We ask your cooperation in shipping in a timely manner, no more than 3 days prior to the start of the event.
Electric & Internet
Electrical Drops and Internet can be purchased on the Washington Hilton website.
Signs, Posters & Promotional Materials
In no case may anything be posted, nailed, screwed on, or otherwise attached to columns, walls, floor, or other parts of the building or furnishings. Distribution of gummed promotional stickers or labels is strictly prohibited. Any actions necessary for the protection and/or repair of the premises, equipment or furnishings, will be at the expense of the exhibitor of the association.
Banner Hanging: $95 per banner
Please contactRicci Sheridan if you require rigging for banners.
Interested?
Contact Craig Lustig, Associate Director
CPL44@georgetown.edu
202-444-7553